The busiest week of the year continued on Wednesday at UN Headquarters and we used our social media platforms to report on the events.  Below are some highlights.
Journalists from around the world have been covering all the events. This photo was taken in the "stakeout area" in front of UN Headquarters.  See all our behind the scenes photos in our Flickr gallery.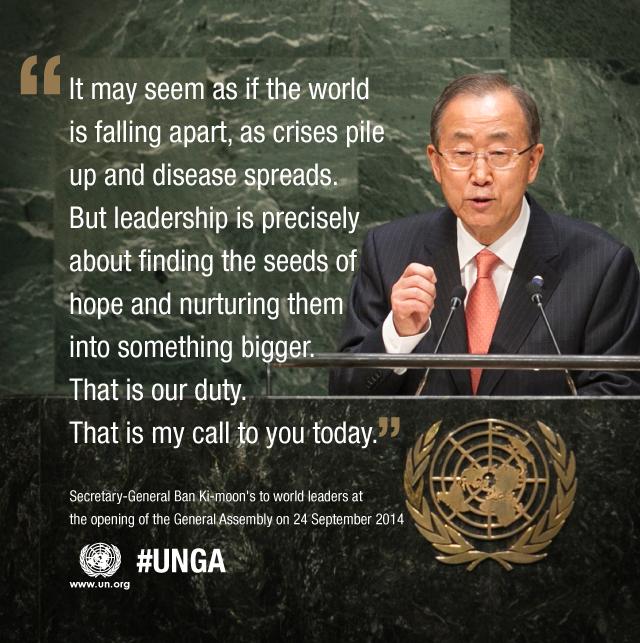 Secretary-General Ban Ki-moon told more than 140 world leaders gathered in New York for the annual General Assembly General Debate that it may seem as if the world is falling apart, as crises pile up and disease spreads – but leadership is precisely about finding the seeds of hope and nurturing them into something bigger.
See news updates here:
At a meeting of the Security Council at the Head of State and Government level chaired by United States President Barack Obama, the 15-member body unanimously adopted a resolution (S/2014/688) responded to an unprecedented flow of foreign terrorist fighters and the growth of facilitation networks fuelling conflicts around the world by adopting a resolution to resolutely address this growing threat to international peace and security.
In one of the largest political line-ups for education, world leaders came together for the Global Education First Initiative's event on "Quality Education for the World We Want," pledging their commitment to put equality in access and learning at the heart of the future development agenda. Keynote speaker was First Lady of the United States Michelle Obama.
Find out what Secretary-General Ban Ki-moon discussed in his bilateral meetings with world leaders in this listing of readouts posted by the Office of the Spokesperson for the Secretary-General and see photos of the meetings here.
Other important issues
Watch archived video from official meetings, side events, press conferences, stakeouts and more.
 General Assembly quick links