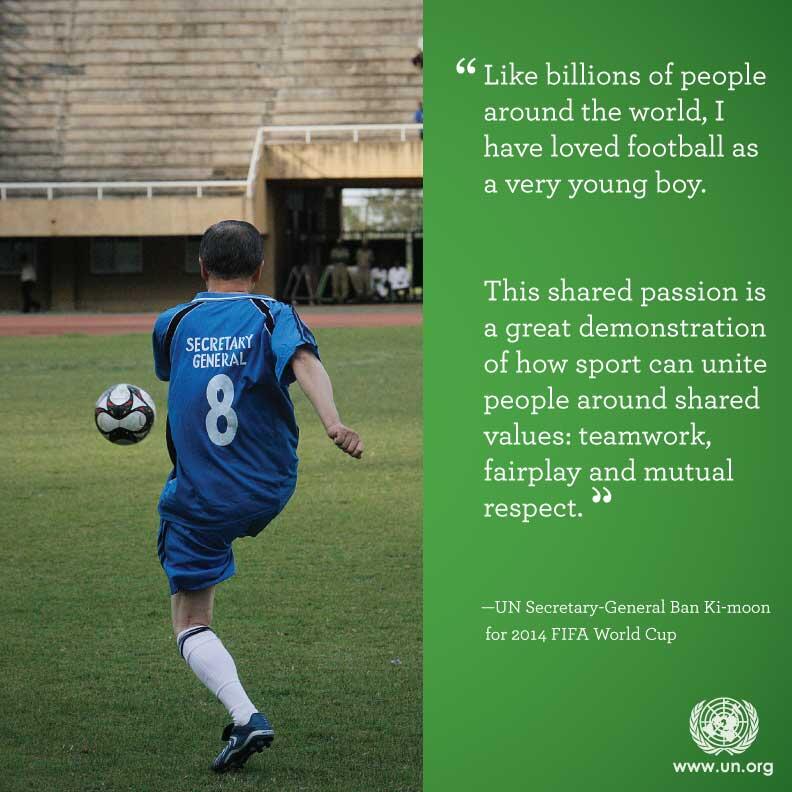 When a reporter in Geneva asked UN Secretary-General Ban Ki-moon if he will be supporting his home country, the Republic of Korea, during the World Cup, he responded:
"This is a very delicate and sensitive question for me! I've been asked this question in fact previously. I may not hide my own sentiment and support for the Korean team but as Secretary-General it would be very important that I need to be impartial. I'm supporting all the teams who are participating in the World Cup!
"But you should know, at the same time, that when the Korean team is competing with any other team, starting from Russia today, you may expect that my heart may beat much faster than in normal time.
"Just to keep my neutrality I decided not to watch the game, and I will get the report from my staff early tomorrow morning.  That may really help my own way of engaging hectic programmes starting from tomorrow.
"Again I wish all the best to all the teams. 
"Sport has an extraordinary power to spontaneously unite the people. That is why I'm going to have a very close collaboration with the IOC and FIFA and that is why I have been participating in the Olympic Games and FIFA;
"I've been participating in two Olympic Games' opening ceremonies and also two FIFA World Cups.
"I have appointed a Special Advisor for Sports, Peace and Development, and we have signed for the first time a Memorandum of Understanding with IOC.
"And for the first time the United Nations General Assembly has designated April 6 of every year as International Sports Day for Peace and Development.  This is one of the very important powerful tools and means to promote reconciliation, harmony and development and peace."

You can read his full remarks online and watch this related video:
Additional information
Shakira's "La La La" celebrates world coming together, supports WFP school meals
Join the UNDP #GameChanger team